I guarantee your complete satisfaction with the copy I write for you.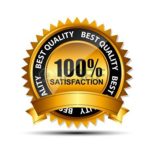 Most of my clients are delighted with the copy they receive from me.  If, for some reason, you are not completely satisfied, I will revise the copy according to your specific guidelines…at my expense.
Just let me know what changes you want made, and I'll make them.  What's more, I won't charge you for the revisions.  They are included in the flat fee we've agreed upon for the assignment.
What I don't guarantee is a particular result or response rate.  Many factors go into your marketing and communications, such as market forces, price competition, product or service demand, consumer preferences, and the economy.  I can't control these.
However, if we both feel that some copy changes might yield a better outcome, I would be happy to work with you to find an equitable solution.
To find out more, give me a call at 425-355-1953 or email me at cynthia@cynthiakincaid.com.